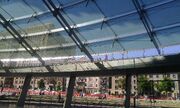 The Brooklyn Museum doesn't struggle in means of funding with an annual budget of about 30 million dollars; however as a not for profit organization, it's continued support over the years comes from community at large as well as federal and corporate donors.
At the Brooklyn Museum, collabration comes in many forms from national organizations to local partnerships. For the Elizabeth A Sackler Center for Feminist Art, there is a hope to become the foundation and initiator of the discussion surrounding Feminist Art. The autonomous nature of the center helps facilities an openness to other organization's represented on the site, drawing away from the overall position of Brooklyn centric identity.
Being one of the nation's larger museum, the Brooklyn Museum is actively supported by The New York City Department of Cultural Affairs, New York State Council on the Arts, National Endowment for the Arts and many more.
Regarding the museum world, the Brooklyn Museum is an accredited member of the American Association of Museum. The Brooklyn Museum was recently recognized by the Institute of Museum and Library Services for its exemplary engagement with its communities. In 2011, the Museum recived a National Medal for its extraordinary and innovative approaches to public service and exceeding levels of community outreach. Particularly recognized for its First Saturdaysprogram that is a family-friendly program that gives residents an opportunity to tour the museum and enjoy music and dance programs at no charge, which happens to be sponsered by Target
Heart of Brooklyn, Cultural Partnership, is a unique collaboration amongst the leading cultural institutions in a centralized area of downtown Brooklyn. Founded as a non-profit organization in 2001, the six members include Brooklyn Botanic Garden, Brooklyn Children's Museum, Brooklyn Museum, Brooklyn Public Library, Prospect Park, and Prospect Park Zoo work together to create a greater network of cultural and community. The Heart of Brooklyn's goal is to make its organizations more visible and accessible, riding the wave of Brooklyn's renaissance. This formal alliance helps expands the offerings of its members by pooling its resources.
HOB's lead project is the Brooklyn Cultural Adventures Program, which offers hands-on experience for youth; the program as an introduction to the cultural institutions and their collection attracting new generations of cultural consumers. Recognized in 2008, The Heart of Brooklyn received a "Encore Awards Honor Outstanding Arts & Business Partnerships." Through a partnership with American Express and Brooklyn Chamber of Commerce, HOB lead a campaign called "Keep it Local", which enriched Brooklyn tourism, spending at local small business as well as giving back to the community.
Ad blocker interference detected!
Wikia is a free-to-use site that makes money from advertising. We have a modified experience for viewers using ad blockers

Wikia is not accessible if you've made further modifications. Remove the custom ad blocker rule(s) and the page will load as expected.