Since its relaunch in 2004, the Brooklyn Museum has made a commitment to a new identity not only in name, but in presence both physically and online.
The mission of the Brooklyn Museum and its affiliates is to connect visitors to art and culture in a way that is both unique and understandable.
The Brooklyn Museum's website reflects a strong commitment to its diverse demographics as well as embracing the individual spirit. The museum and its affliated sites have been designed with all peoples in mind.
Usability
Edit
The Brooklyn Museum is lauded for its streamlined template, while still being engaging and eye catching for visitors. Every page has the header navigation bar, which leads users to the most pertinent information from anywhere on the site such as contact, directions, and FAQ.
The EASFCA is not easily accessible unless the patron already knows it exists. However located on the left hand side of any exhibit within its gallery, there is a banner image that leads directly to the Center for Feminist Art's homepage.
HTML Validator
Edit
When testing the site on the web validator, the homepage and the Sackler main page had about 15 errors. The majority errors were missing "alt" tags and closing brackets on end codes; these errors were few and don't affect the site on major browsers.
Load Times: Local & International
Edit
When running the site through international access site, the Brooklyn Museum website performed well overall. On average, the whole site loads under five seconds. The only struggles seem to come when compressing the higher resolution images, which are kept to three or fewer on the home page. Since the servers for the website is located in Seattle, suggests the whole operation is run through a "Cloud" computing.
Metadata Overview
Edit
Like most sites, the Brooklyn Museum uses Google Analytics as well provides over twenty language translations through Google Translate. As NYC receives just under a half million of tourists annually, this application is crucial for guests. However the bourough of Brooklyn is home to large number of Russian and Chinese families; it is important that these patrons feel like they are welcome at their neighborhood museum.
Accessibility
Edit
Lynx Text
Edit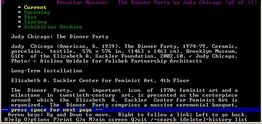 When providing online access to disabled patrons, the Brooklyn seems to have made the simple adjustments to assist blind site users. Using the Lynx program, the Brooklyn Museum is free of non-descriptive images; however, a "back to top" function could be added to ease use.
Ad blocker interference detected!
Wikia is a free-to-use site that makes money from advertising. We have a modified experience for viewers using ad blockers

Wikia is not accessible if you've made further modifications. Remove the custom ad blocker rule(s) and the page will load as expected.