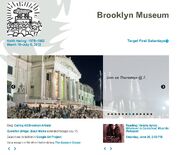 In the digital age, website personalization refers to the dynamic insertion or customization of content relevant to the individual user, whether based on implicit, explicit or suggested behavior.
The Brooklyn Museum's website reflects a strong commitment to its diverse demographics as well as embracing the individual spirit, through an engaging online experience.
Personalization
Edit
Website History & Development
Edit
The Brooklyn Museum has basically had the same template since mid 2004. Earlier versions of the site seem to still, the same general navigation and interaction; however it predates the importance of social media.
The new layout and design pattern is indicative of not only the building renovation in 2001, but also apart of strategic name change and graphic identity. According to a 2004 Press Release, Michael Rock, a lead designers generating the new logo, commented, "The new logo is intended to reflect flexibility, change, surprise, and accessibility. The dynamic seal is designed to represent a museum that is willing to break the mold of the familiar and commit to a program of continuous experimentation, openness and, most important, constant reinvention."
Reverting back to the Brooklyn Museum, dropping the "of Art" added in the late 1990s as well as changing the graphic identity helped set the stage for the museum's commitment to accessibility, community and interactiveness.
The museum strives to be unique yet clear in all areas from name to website
Online Presence
Edit
Ad blocker interference detected!
Wikia is a free-to-use site that makes money from advertising. We have a modified experience for viewers using ad blockers

Wikia is not accessible if you've made further modifications. Remove the custom ad blocker rule(s) and the page will load as expected.