Being Brooklyn born and bred, the Brooklyn Museum has been an everlasting fixture in my growing up experience. So much so that, I even attribute my undergraduate to degree in Classics to its Egypt Reborn: Art for Eternity exhibit.
Egypt Reborn
Edit
The older permanent collections have elements of earlier multimedia tools as well as updated aspects. For example the most famous, "Egypt Reborn: Art of Eternity." The museum had to provide ways for people to interact with exhibits before QR codes and tablets. "Striking Poses" is an interactivity game to understand the different poses that ancient Egyptians developed and their meanings. It was built using Flash technology to operate as comparative education tool to highlight the differences in posture and size of objects located throughout the exhibit. It is obvious from the limitations of the touchscreen and the formatting of the online version that this education resource predates the website re-launch and could probably use an upgrade.
First Saturday
Edit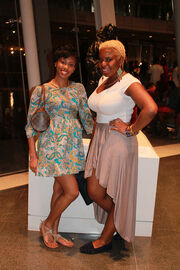 The museum offers two extended hours programming options, Thursdays@7 and Target First Saturdays. Thursdays@7 programming tends to lean toward exhibition guides and lectures, while Target First Saturday is a monthly late night of art and entertainment followed by a dance party. A wildly popular event, the first "First Saturday" saw 2,500 visitors, and it now averages 10-12,000 each month. August of 2011 set a record of 24,000 attendees. The Museum must operate at full capacity and engage a wide range of audiences. Every part of the museum is filled with families, regular museumgoers and first time enthusiast.
Ad blocker interference detected!
Wikia is a free-to-use site that makes money from advertising. We have a modified experience for viewers using ad blockers

Wikia is not accessible if you've made further modifications. Remove the custom ad blocker rule(s) and the page will load as expected.