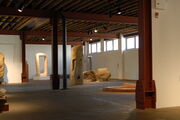 On May 19th, 2012 I paid a visit to the Noguchi Museum in Long Island City, Queens. The Museum is located diagonally from the Socrates Sculpture Park and surrounded by industrial shops and a CostCo big box retailer. Once inside the complex, which is comprised of two buildings and an outdoor sculpture garden, all the surrounding neighborhood seems to vanish and one is transported into a cool, serene and calm world.
Ad blocker interference detected!
Wikia is a free-to-use site that makes money from advertising. We have a modified experience for viewers using ad blockers

Wikia is not accessible if you've made further modifications. Remove the custom ad blocker rule(s) and the page will load as expected.