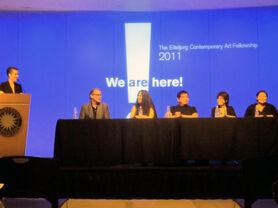 Online forums relevant to NMAI:
MUSEUMS-L : 293 results for "National Museum of the American Indian"
MUSEUMS-L : 16 results for "George Gustav Heye": mostly event promotion, Building Museums conference site (2010), cited as an example of a "great building retrofit" (2009), summer vacancy positions (2007), NYTimes article on Iroquois beading exhibit (2002), cited as example of museum partnership (2001, with DC NMAI, in response to discussion of how Southwest Museum of the Am Ind will endure), 3 Smithsonian IT job postings for NMAI (1997), invitation to symposium -

"The Changing Presentation of the American Indian" (1995), SI lecture series announcement (1994, about GGH exhibitions), announcement that GGH center is opening in NYC and building on mall is coming (1994), and inquiry pasted below:
Dear List,

I am a researcher with the repatriation office of the National Museum of
the American Indian (NMAI).  I am hoping that some of you can help me
identify several collectors whose names we have in our collection
records but little else.  I am trying to determine provenience for a human
remain and funerary objects from the middle Columbia River area of
Oregon.  Any information on the collecting habits, or collecting locations,
of the following individuals will be extremely helpful, as the proveniences
we have listed for this remain and these objects are rather general.  The
founder of the private institution that became our museum, George
Gustav Heye, had a great aversion to record-keeping, and it is this
scarcity of early records that we have inherited.

Below are the names of the collector/donors of material at NMAI, the
provenience as recorded in our records, and the date of accession.  The
proveniences we have are quite general ("Memalose Island" could be
Upper or Lower Memaloose Island, or refer in general to a "memaloose"
island-- the Chinook Jargon term for "dead" or "island of the dead;"  "The
Dalles" refers to the area around the rapids or possibly the city of the
same name) and so any field notes or collection records that you might
have regarding the following collectors would be of great help!  Of
course, it is also possible that the donors listed below traded for these
Oregon objects with local Oregon collectors or dealers. In this case, the
trail back to the orignial collector may be impossible to discover.

1.)  Booth (first name unknown), "Memalose Island" and "the Dalles,"
Oregon,  1905 (Note:  NMAI also has objects from Booth from twenty-six
other states, and Brazil, Greenland, Mexico, Guatemala, and Honduras.

2.)  H.K. Deisher, "Memalose Island," 1915.

3.)  Grace Nicholson, "Memalose Island," 1916 (the information I am
lacking is on her activities in the Northwest).

4.)  William F. Paul, "Memalose Island," 1916.

5.)  I.P. Richardson, "Memalose Island," 1923.

6.)  F.W. Skiff of Portland, OR, "Memalose Island," 1925.

7.)  Edwin C. [E.C.] Waters, "Memalose Island,"  (accessioned in 1971,
actual date of arrival at museum between 1904-1917).

8.)  T.T. Waterman, the Dalles, 1921.

9.)  Blair S. Williams, "Memalose Island," 1941.

Please excuse the long posting, and please respond directly to me with
any information or suggestions you might have.  I thank you all in
advance for your help!

Kevin Olbrysh
Repatriation Research Assistant
National Museum of the American Indian
Research Branch
3401 Bruckner Blvd.
Bronx, NY 10461
(212) 514-3992
fax:  (212) 514-3815

Ad blocker interference detected!
Wikia is a free-to-use site that makes money from advertising. We have a modified experience for viewers using ad blockers

Wikia is not accessible if you've made further modifications. Remove the custom ad blocker rule(s) and the page will load as expected.