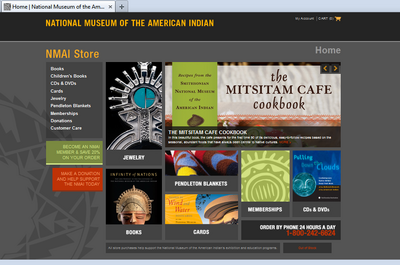 The National Museum of the American Indian offers an online shopping experience.
The museum usesCybersource, a third-party payment management vendor, to process credit card transactions.

What items are available online (and/or what could be online)?
Books, CDs & DVDs, Cards, Jewelry, Pendleton Blankets, Membership, and Donations

Are they appropriate for sale online?
The items for sale online are appropriate because they are all easily reproducible. The museum stores sell T-shirts, unique jewelry, and other items, but there may not be a reliable supply.

If you are willing/able, buy a small item from your museum online and note the service you receive in due course.
How could the e-commerce provision be improved?