New Museum does not offer a database or catalog of their artworks on their website; in fact, there is no search functionality at all. Under Events > Past on the main navigation, the website provides a link to the New Museum Digital Archive (http://archive.newmuseum.org/) with "free online access to primary source materials from New Museum exhibitions, public programs, and publications." According to the About section, the archive was built using the open source software application, CollectiveAccess, developed by Whirl-i-Gig (New Museum is even featured on the software's website, http://www.collectiveaccess.org/about/projects). The Digital Archive uses Dublin Core and adheres to Getty Vocabularies' structured terminology.
The site visitor can search in the archive or browse through one of several entry points: people, exhibitions, public programs, publications, and object types. Those indexes can be sorted by a variety of qualifiers; People/Organizations, for example, can be structured into Role (Architect, Artist, Author, etc.), Name, or Type (Individuals or Organizations) (fig. 1). The Digital Archive already had entries for an exhibit that closed on April 19, but not for current exhibitions.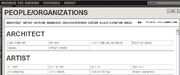 The archive also successfully returned the relevant images when the artist Peter Adair was searched; no quotation marks needed to search only the exact name, and no random results with only part of the search term (fig. 2).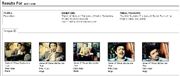 The related Exhibitions and Public Programs are listed both through searching and browsing; these then have details about other participating artists.

The metadata on an object includes fields for Artist (which links to his other works), Materials, Measurements, Photography Credit, Related Exhibition, and an Identifier (number).
While the archive itself is easy to navigate, that element of the Features section lacks good usability, as there are arrows to scroll through Features, but they do not actually move the visitor to more content and are therefore misleading (fig.3).