The New Museum does not have a separate app or a special mobile site for smart phones, but relies on the website to be viewable on such devices. Testing the site on ready.mobi resulted in an overall "Bad" score, meaning it may display poorly on a mobile screen. There were compliance issues with the XHTML Mobile Profile and Valid Markup, plus pop-ups, unspecified image sizes, page size limits, and large graphics.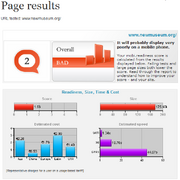 When I checked the site on my iPhone, I did not find it difficult to use, although there was the need for page zooming. In fact, the "Add to Calendar" feature was helpful for setting up an event entry on my phone's calendar.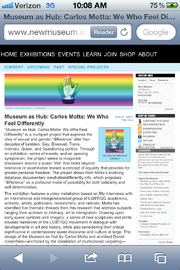 The museum does not offer wifi, but they should consider that in the event that they increase their mobile activity. As their museum is exhibition-based, investing in a permanent app for the collections doesn't make the most sense, but perhaps an app for the museum itself could be updated with exhibit details as needed. There could be a calendar for events and visitor information. Ideally, audio tours could accompany exhibits and be accessible on mobile devices, if that fits in with the nature of the exhibit.
The navigation of the website on a mobile device is actually easier than on the desktop version because it doesn't skip around while choosing the primary navigation.