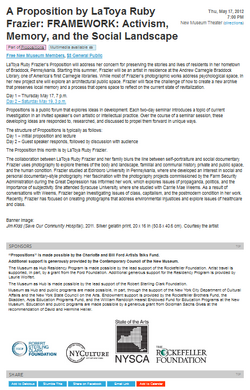 Personalization
Edit
The current New Museum website does not offer much in the way of personalization. It provides RSS feeds, if the site visitor wants to use them on their own site, and there are also tools to share the details on an event or exhibition through social media. Since the New Museum offers frequent events, they have an "Add to Calendar" option on the website and on a mobile device.
Suggestions
Edit
The "Add to Calendar" option is far down on the page, and although it's in red, the user must scroll through text and sponsor information before coming across the button (Figure 1). This would be more useful closer to the date and time information next to the exhibition title.
The site could also offer the option to digitally select and store artworks in a personal collection.
GClass.org, an affiliated but external site, caters to students and educators through workshops intended "to work with professional artists and educators to incorporate contemporary art into core curricula." There are lesson plans but no interactive or personalized options (Figure 2). This would be the perfect location for commentary in a forum from other attendees, but for now there is only the option to comment on a lesson plan directly; participants could react to the workshops or lesson plans.