The New Museum has nearly 128,000 "likes" on their
Facebook
page. The museum allows anyone to post to their wall or comment on photos, and they will even respond in a timely manner (fig. 1).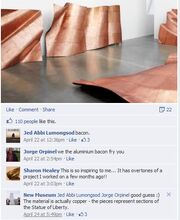 The museum typically posts at least once per day, with links to exhbits on their own site, reviews or media coverage of exhibits, and upcoming events. There is also the occasional posting regarding an event in the surrounding neighborhood or New York or an art-related news article. Photos of events feature a description and a link to the events calendar on the museum's site (fig. 2).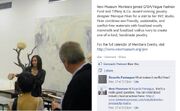 Over 53,000 people follow New Museum on Twitter, and they have tweeted nearly 3,100 times; posting frequently encourages their followers to pay attention. They share photos of museum staff interacting with the exhibits or "sneak peeks" of upcoming exhibits. They will respond to followers, even commenting on a visitor's photo of an exhibit (fig. 3), and will retweet mentions. The Twitter posts are often similar in content to their Facebook updates, but Twitter does not automatically repost through Facebook.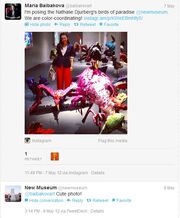 Along with Facebook and Twitter, the New Museum blog, Always Open, is promoted on the website's homepage. This resource seems to be updated only twice a month at most.
Additional
Edit
The New Museum has an account on the photo-sharing site, Instagram, which they promote through Facebook and Twitter postings.