The Internet Archive (wayback.archive.org) began crawling the New Museum site on January 1, 1997. The current design launched in November 2007.
This version is more text-heavy, with a few images on one exhibit, the Adrienne Salinger Photos (Figure 1). The navigation is in the left column, and the tabs are not to Events or Exhibitions, but to Videos, Zines, and CD-ROMS. There is no link to an online store.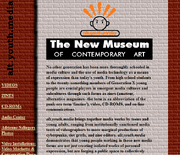 The site was under construction mid-year, and then in December the site appeared as a list of hyperlinked exhibits (Figure 2). The site linked to the bookstore, but not in an e-commerce capacity.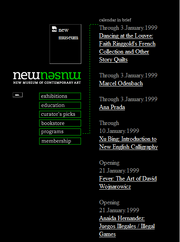 The site remained in the 1998 style until November 23, 2002, when a new design launched (Figure 3).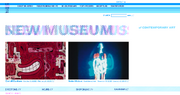 This now had a white background with a moving text header and very thin navigation bars without clear titles. Now included Calendar, Exhibitions & Programs, and New Initiatives; More featured Exhibition History, Public Programs Archive, School Programs, Youth Presents, Group Tours, and Curator's Picks. There was now e-commerce (Figure 4).
The site continued as in 2002, with only slight changes to the homepage layout, like three feature photos instead of two and a more prominent promotion of the New Museum store (Figure 5).
The navigation was similarly difficult, but More was replaced with Info (the Internet Archive's results did not clearly link to the subnavigation, but the general lack of clarity was easy to discern). The current site launched at the end of November 2007, around the time the new building opened on the Bowery (Figure 6). Images on the homepage do not appear in the Internet Archive's results, so it is difficult to tell if the site was still in development or if there were errors on the site when IA crawled.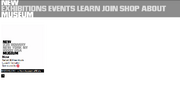 The current site retains ths navigation developed here.