The New Museum, as observed on Thursday, May 17, offers limited digital informatics.
Use of Technology
Edit
Working top-down from the fifth floor, the "We Who Feel Differently" exhibit features the work of Carlos Motta.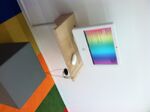 In addition to a projected video documentary with audio on loop, this exhibit included one Mac desktop computer with access to the accompanying database documentary,
wewhofeeldifferently.info
. The database is organized into categories for Interviews, Themes, Journals, and Ephemera, which provides details on the project's history. Still in the Motta exhibit, six televisions with headphones play interviews with "international and intergenerational group of LGBTIQQ academics, activists, artists, politicians, researchers, and radicals" (details at
newmuseum.org
).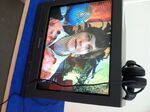 Additionally, an audio track of "A Timeline of the Pink Triangle" is read aloud in the room, which increases accessibility to the exhibit. The Resource Center, also located on the fifth floor, provides access to two more Mac computers, which claim to have access to the museum's website plus other online resources, but only the website was available.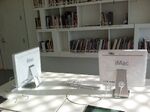 Additionally, in an alcove off the main exhibit area of the fifth floor, a television with two sets of headphones is part of the Bowery Artist Tribute (boweryartisttribute.org), a "celebration and exploration of the New Museum's new neighborhood." The TV plays interviews with neighborhood residents, and the signage directs visitors to the tribute's website to view an interactive map with addresses of artists. Although the sign also says there are multiple video screens throughout the museum, none were located on this visit.
Throughout the rest of the exhibits, each floor had one small sign with the museum's social media details.
The remaining exhibits did not have digital informatics, and the only technology was related to the individual installation's needs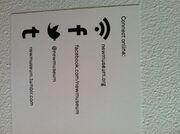 , such as a projector and screen for an artist's video. In a small side room off a stairwell, an armchair was provided for comfortable viewing of a Stanya Kahn's video, "Happy Song for You."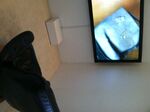 Suggestions
Edit
Any time a website is mentioned within an exhibit, a QR code should accompany the address to encourage museum visitors to connect with a smart phone by simply scanning and being directed to the site. Again, QR codes for the museum's social media would promote visitor connection.
The Resource Center has the potential to provide access to digital features, but the computers did not seem to be updated with the listed resources and only had the museum's website. Along those lines, The Bowery Artist Tribute has an interesting interactive map that should be accessible in the museum, either right by the TV with the interviews or in the Resource Center.