Mobile Devices
Edit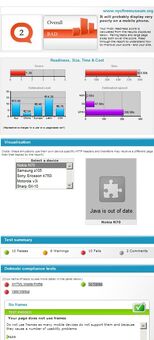 When run through the MobiReady test, nycfiremuseum.org received an overall score of "Bad." However, this just means that it is not a mobile ready site. The website itself shows up on a mobile device correctly, with everything in its place. It just might be a bit slow to load and the user must zoom in and scroll around to be able to read anything. The museum does not provide a special mobile site so their main website will just have to do. If they were to design one, it would be appropriate to have a navigation bar to hours, location, contact information, and a link to the full website.
The New York City Fire Museum does not provide a mobile app, either. If in the future they chose to design one, it could potentially showcase star exhibits and provide more information and links on particular objects. There could also be links to related or similar items kept in the archives not on display.
The museum does not provide free wifi. If they were to have a mobile ready website and/or mobile app, this would be necessary. As of now, however, there is really no reason to have free wifi for visitors. There is no cafe or lounge for visitors to spend time in. When they're in the museum, they should really just be looking at the exhibitions.
The New York City Fire Museum does not currently use QR codes in their museum. Here is a QR code I created using qrcode.kaywa.com to link to their homepage:

This QR code links to the museum's Wikipedia page. It was created using qrpedia.org: