Overall Design
Edit
The
New York City Fire Museum
takes up the first and second floor of a 1904 renovated fire station.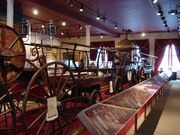 The first floor contains the newer fire engines and equipment, as well as the 9/11 Memorial Rooms. The museum store is also located on the ground floor and is accessible to those who do not wish to purchase tickets to the museum. The second floor contains the older engines and artifacts.
Use of Technology
Edit
The New York City Fire Museum does not use a lot of technology in their exhibits. On the second floor where the oldest items are kept, there were no instances of technology used in any of the exhibits.
On the ground floor, you have the option of sitting down at a table and watching a DVD

called "Brotherhood." It was a little odd in that it was set up right in the middle of the entrance with no sort of privacy. Everyone in the museum shop and the ground floor exhibits would be able to see and hear the DVD.

In another little room, there is an exhibit set up commemorating the Triangle Shirtwaist Fire. It contains a little screen that has a video set to play on loop, detailing the events leading up to the fire and the aftermath.
In the main room on the ground floor, there is a pedestal that will play audio detailing the ways the telegraph changed the way fires were reported when the red button is pushed.
In the 9/11 Memorial Rooms, there is a room set up with chairs facing a television playing a video on

loop of raw footage of the aftermath of the attacks and the rescue and cleanup efforts. There is also a computer screen set up to the left of the television. This computer is the most interactive piece of technology in the museum. It is a touch screen that allows you to view multiple categories:
In Memory of Our Fallen Brothers: This options allows the user to view pictures and biographies of all 343 firefighters who lost their lives due to the 9/11 attacks.
Photo Journal: This option shows various photographs of the attacks and their aftermath.
Media: This options allows the user to browse coverage of the events of 9/11 by various media outlets.
In Memory of the NYPD and Port Authority Police: This options lists the names of the fallen from these organizations.
Tributes and Condolences: This option shows photographs of various tributes created to commemorate those we lost on 9/11.
Conclusion
Edit
The New York City Fire Museum does not make use of a lot of technology in its exhibits. There are no QR codes or ways to bookmark items or electronic tour guides. The instances of technology in the museum tend to be awkwardly placed and not necessarily cohesive with the rest of the collection.