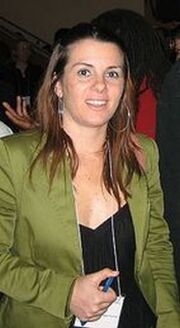 Silvia Filippini Fantoni completed her PhD at Sorbonne University↑, Paris↑, on the use of personalization technologies in museum↑s. As part of her PhD research, she has studied the use of bookmarking in museums, conducting a series of evaluations on this topic. She has presented the results of her research on personalization at international conferences and seminars and has worked on projects with the Louvre↑ and the Cité des Sciences et de l'Industrie↑ in France↑, the Indianapolis Museum of Art↑, the Metropolitan Museum of Art↑, Tate Modern↑, the J. Paul Getty Museum↑, and Antenna Audio, where was employed as an evaluator and a product manger for multimedia tours.
She currently works for Cogapp↑ in Brighton↑, England↑.[1]
References
Edit
External links
Edit
Ad blocker interference detected!
Wikia is a free-to-use site that makes money from advertising. We have a modified experience for viewers using ad blockers

Wikia is not accessible if you've made further modifications. Remove the custom ad blocker rule(s) and the page will load as expected.