This page discusses usability and accessibility issues for the website of the Smithsonian Cooper-Hewitt National Design Museum website.
Usability
Edit
W3C validator
Edit
W3C validation output for www.cooperhewitt.org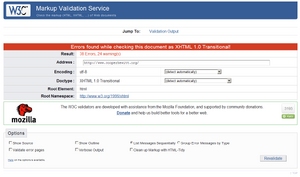 38 errors, 24 warnings. The majority of these fall into the following categories:
20 of 24 warnings are attributed to "character X is the first character of a delimiter but occurred as data." This appears to be due likely to use of an unescaped ampersand or neglecting to close quotes in an earlier tag.
The errors are more widely disctributed than the warnings.13 errors are "required attribute X not specified;" 11 of those are due to missing alt tags. Eight errors are "syntax of attribute value does not conform to declared value," and these all appear too be related to classes related to item bullets.
WebPagetest
Edit
Web page performance test for www.cooperhewitt.org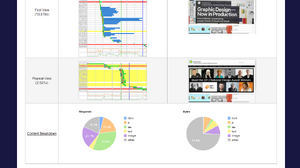 Content breakdown: approximately a third of the requests are for CSS. Just over 20% of the requests are for images. Javascript and "other" each represent 13% of requests. Just under three-quarters of the bytes are used by "other," followed by images with 8.8%.
Page speed received a score of 73/100 with three errors and one warning. It appears that images may not be as compressed as they could be, there is inline CSS, and there is no specification for browser caching.
Accessibility
Edit
Lynx: a text-based browser
Edit
The site fares well in the Lynx text-based browser. Search is second only to the page title, and the nested navigation is ordered and clear. The main opportunity for improvement concerns the use of alt tags. Alt text should be provided for content that enriches the user experience, and null alt text (i.e., alt="") should be used for images that are not. Currently, undescriptive image names add unnecessary clutter and impede browsing.
17 known problems, 0 likely problems, 229 potential problems. The majority of known problems are also identified by the W3C validator. 11 of the known problems are attributed to the lack of "text alternatives for any non-text content." Another issue that is a simple fix and quite helpful would be to identify the document language with the appropriate ISO designation.
WAVE: Web Accessbility Evaluation Tool
Edit
WAVE report for the Smithsonian Cooper-Hewitt National Design Museum website
13 errors and an unspecified number of alerts. I was only able to identify the following ten errors on the page:
eight missing alt tags, one missing form label and one link without text.